WordPress preview
WordPress photoshop screenshot

Tablet Layout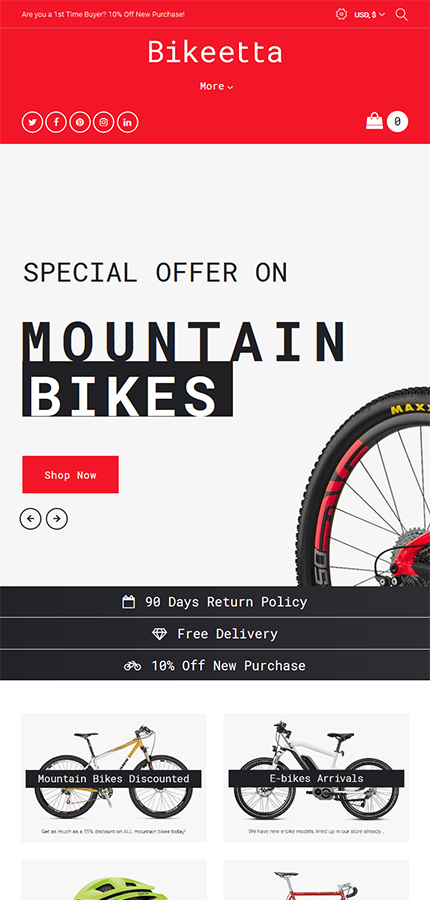 Smartphone Layout 1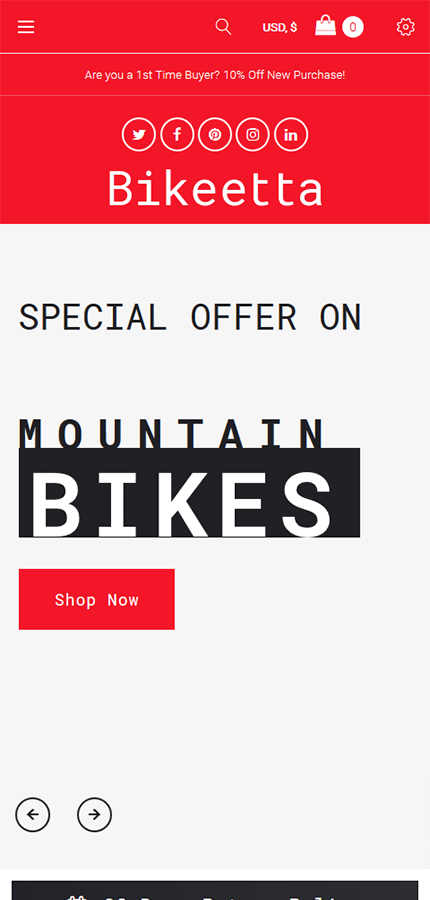 Smartphone Layout 2

WordPress preview
Opis szablonu
Bike Store WooCommerce Theme was crafted for cars, motorcycles and bike websites. It has a moderate yet catchy design, advanced online store functionality and all that's necessary to make your future online presence sales-centric. When landing on your homepage visitors will be engaged in your sales funnel by means of newsletter popup, which will help you to build your first email list on the fly. Social options will help you to spread a word about your bike store all around the web. Ajax Cart can be used to add desired products in an instant and get back to shopping without reloading the page. When looking for a certain product potential customers can use Ajax Search and sorting options in order to find it in a matter of a moment. Enjoy Bike Store WooCommerce Theme in action with the live demo preview.
TemplateMonster MarketPlace
TemplateMonster is a marketplace where you as a designer or developer may sell your Web Design Software, Website Templates, Design Elements, Plugins and Extensions. Become a digital products vendor and earn up to 70% from each sale.
This is Open Source Software WooCommerce design template with Sample Data Installer
What is it?
It is just a online component which helps to set up a quantity of data keeping the live demo content.
Why is it Good?
Sample Data Installer can help you to set up a web template easily and inspect how your site will look like before it's done as necessary.
Find newest Sample Data Installer WooCommerce designs here
This is Web Development Company WooCommerce design theme with MotoPress Slider
What is it?
Beautiful pics attract the viewers of a web site. MotoPress Slider can present your visuals in the most beneficial manner and really helps to make the web site a great deal more informative. Effortlessly shifting photos with some subject material focuses end user's attention on the very best offers of the web site.
Why is it Good?
MotoPress Slider will let you make SEO-friendly slideshows with instinctive drag and drop interface.
Find fresh MotoPress Slider WooCommerce designs here
This Bike Store WooCommerce theme is Search Engine Friendly
What is it?
SEO-friendly WordPress themes are templates that are compatible with the widely used SEO plugins for WordPress.
Why is it Good?
Along with it, it is possible to get lots of targeted customers to the internet site from search engines.
Find fresh Search Engine Friendly WooCommerce themes here
This is Motorcycle WooCommerce design theme with Pop-up Manager
What is it?
Pop-up Manager is a tool that permits developing and dealing with lots of pop-up windows.
Why is it Good?
Pop-ups will be the trouble-free way for you to keep your web users involved with your hot special deals and also other sort of information that is definitely deserve their particular consideration.
View more Pop-up Manager WooCommerce design themes here
This Motorcycle Parts WooCommerce design template is Responsive
What is it?
Responsive web page design method makes a web page's interface adjustable for any kind of screen resolution.
Why is it Good?
Responsive design is the reason why the website will provide an excellent browsing experience to all users throughout all gadgets.
View more Responsive WooCommerce themes here
This is Bike Shop WooCommerce design theme with GPL License
What is it?
GPL License enables users to sell the original along with the changed software.
Why is it Good?
GPL License provides users the freedom to study, transform and promote software without having limitations.
Find latest GPL License WordPress WooCommerce templates here
This Computers & Internet Company WooCommerce theme is Retina Ready
What is it?
Retina Ready WordPress themes are templates that can adjust to Retina displays and still appear clear and vivid.
Why is it Good?
Being Retina Ready your website results in being accessible from Apple devices which expands the number of prospective clients.
Click for more Retina Ready WordPress WooCommerce templates here
This System Software WordPress WooCommerce theme is WPML ready
What is it?
WPML ready site templates helps to translate any specific code-embedded phrases on your web presence.
Why is it Good?
WPML readiness lets you translate all the needed text of your website and attract foreign customers. This option will be particularly advantageous for online business.
Browse for more WPML ready WooCommerce design templates here
This template is featured in the following editorial reviews:
Szablonów tego typu obecnie nie dostosowujemy i nie instalujemy. Wykaz typów szablonów, które dostosowujemy i instalujemy
kliknij tutaj...
Szablon 64658 z dostosowaniem
Wpłata tylko za szablon (752 zł.)
Pozostała kwota ( zł.) po zakończeniu dostosowania szablonu.
...lub zapłać całość (dostosowanie na serwerze i domenie Klienta) ZAPŁAĆ CAŁOŚĆ 752 zł. brutto (z VAT) Czas realizacji max. 7 dni
Dostosowanie szablonu to:
Wymiana zdjęć, logo i tekstów
Instalacja dostosowanego szablonu na serwerze i domenie klienta
Serwer i domena [.pl] na 1 rok za 0 zł.!
Pozycjonowanie w Google
Wystawiamy fakturę VAT 23% (.pdf)
Dostosowanie szablonu przez NetYou, Polska | czytaj więcej...
Szablon 64658 z instalacją
Czas realizacji max. 48 godz.
Szablon z instalacją to:
Instalacja oryginalnego szablonu na serwerze i domenie klienta (dane serwera i domeny dostarcza Klient)
Po instalacji strona będzie identyczna jak w wersji "Live Demo"
Wyjątek: szablony na licencji GPL (prewki zamiast oryginałów zdjęć)
Faktura VAT 23% (.pdf)
Instalacja przez NetYou, Polska | czytaj więcej...
Szablon 64658 z instalacją + hosting
Zamów szablon wraz z Instalacją, Serwerem i Domeną [.pl] dla Twojej strony (na 1 rok za 0 zł.!). Promocja wyłącznie w przypadku rejestracji serwera i domeny przez nas - więcej...
Szablon 64658
Czas realizacji max. 24 godz.
Po zakupie otrzymasz mailem:
Link w celu pobrania szablonu (.zip) - aktywny przez 3 dni
Fakturę VAT 23% (.pdf)
Kupujesz od NetYou, Polska
Szablon 64658
Tylko dla posiadaczy konta w PayPal
Czas realizacji max. 2 godz.
Po zakupie otrzymasz mailem:
link w celu pobrania szablonu (.zip) - aktywny przez 3 dni
invoice - imienny dowód zakupu (.pdf)
kupujesz od naszego partnera JetImex Inc, USA
Szczegóły techniczne
Strona typu RWD (Responsive Web Design) - strony responsywne dopasowują się do urządzeń mobilnych.

Pliki źródłowe - .PHP, This theme is widgetized
Opis :

Bike Store WooCommerce Theme was crafted for cars, motorcycles and bike websites. It has a moderate yet catchy design, advanced online store functionality and all that's necessary to make your future online presence sales-centric. When landing on your homepage visitors will be engaged in your sales funnel by means of newsletter popup, which will help you to build your first email list on the fly. Social options will help you to spread a word about your bike store all around the web. Ajax Cart can be used to add desired products in an instant and get back to shopping without reloading the page. When looking for a certain product potential customers can use Ajax Search and sorting options in order to find it in a matter of a moment. Enjoy Bike Store WooCommerce Theme in action with the live demo preview.

TemplateMonster MarketPlace

TemplateMonster is a marketplace where you as a designer or developer may sell your Web Design Software, Website Templates, Design Elements, Plugins and Extensions. Become a digital products vendor and earn up to 70% from each sale.

This is Open Source Software WooCommerce design template with Sample Data Installer

What is it?

It is just a online component which helps to set up a quantity of data keeping the live demo content.

Why is it Good?

Sample Data Installer can help you to set up a web template easily and inspect how your site will look like before it's done as necessary.

Find newest Sample Data Installer WooCommerce designs here

This is Web Development Company WooCommerce design theme with MotoPress Slider

What is it?

Beautiful pics attract the viewers of a web site. MotoPress Slider can present your visuals in the most beneficial manner and really helps to make the web site a great deal more informative. Effortlessly shifting photos with some subject material focuses end user's attention on the very best offers of the web site.

Why is it Good?

MotoPress Slider will let you make SEO-friendly slideshows with instinctive drag and drop interface.

Find fresh MotoPress Slider WooCommerce designs here

This Bike Store WooCommerce theme is Search Engine Friendly

What is it?

SEO-friendly WordPress themes are templates that are compatible with the widely used SEO plugins for WordPress.

Why is it Good?

Along with it, it is possible to get lots of targeted customers to the internet site from search engines.

Find fresh Search Engine Friendly WooCommerce themes here

This is Motorcycle WooCommerce design theme with Pop-up Manager

What is it?

Pop-up Manager is a tool that permits developing and dealing with lots of pop-up windows.

Why is it Good?

Pop-ups will be the trouble-free way for you to keep your web users involved with your hot special deals and also other sort of information that is definitely deserve their particular consideration.

View more Pop-up Manager WooCommerce design themes here

This Motorcycle Parts WooCommerce design template is Responsive

What is it?

Responsive web page design method makes a web page's interface adjustable for any kind of screen resolution.

Why is it Good?

Responsive design is the reason why the website will provide an excellent browsing experience to all users throughout all gadgets.

View more Responsive WooCommerce themes here

This is Bike Shop WooCommerce design theme with GPL License

What is it?

GPL License enables users to sell the original along with the changed software.

Why is it Good?

GPL License provides users the freedom to study, transform and promote software without having limitations.

Find latest GPL License WordPress WooCommerce templates here

This Computers & Internet Company WooCommerce theme is Retina Ready

What is it?

Retina Ready WordPress themes are templates that can adjust to Retina displays and still appear clear and vivid.

Why is it Good?

Being Retina Ready your website results in being accessible from Apple devices which expands the number of prospective clients.

Click for more Retina Ready WordPress WooCommerce templates here

This System Software WordPress WooCommerce theme is WPML ready

What is it?

WPML ready site templates helps to translate any specific code-embedded phrases on your web presence.

Why is it Good?

WPML readiness lets you translate all the needed text of your website and attract foreign customers. This option will be particularly advantageous for online business.

Browse for more WPML ready WooCommerce design templates here

This template is featured in the following editorial reviews:

Oprogramowanie i edycja - Apache Server, For uncompressing a template ZIP package:
WinZip 9+ (Windows);
Stuffit Expander 10+ (Mac)
Sprzedano - 21 szt. tego szablonu.
Regulamin i licencja - Licencja zezwala na instalację szablonu wyłącznie w jednym miejscu (na jednej domenie) - czytaj więcej...
Polecany Hosting - lh.pl